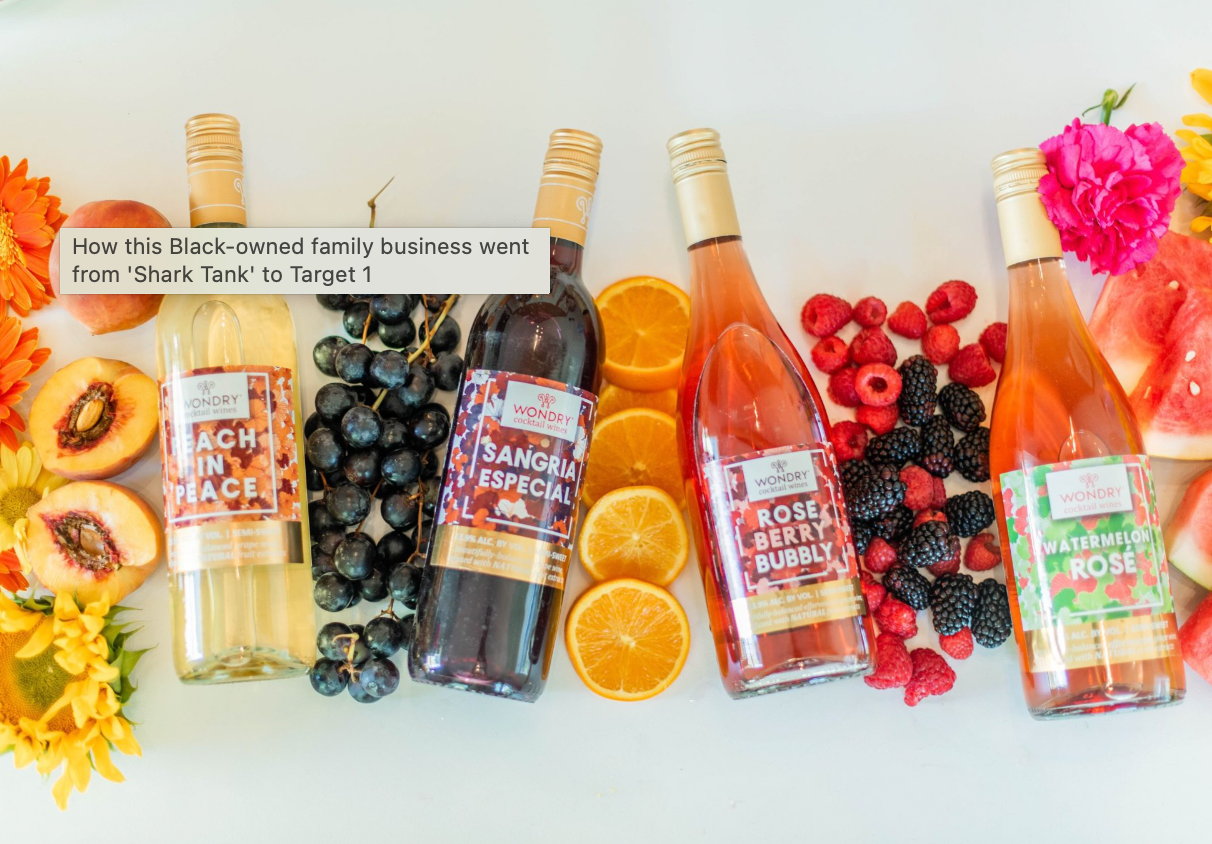 Rolling Out- WONDRY Wine started with a dream. Whitney Gates learned how to make wine from her uncle growing up in Tennessee, and her husband, Chaz Gates, eventually persuaded her to turn the passion into a business.
The Texas couple has since taken the business to ABC's "Shark Tank" and have seen their product featured in retail stores like Target throughout the state.
According to a 2021 report from the Wine Industry Advisor, less than 1% of wine and spirits owners are Black. What does that mean to you to be in such an exclusive group?
It's everything. Even as an adult, representation matters. For me, growing up, it was important to see mentors or others that were breaking ground in spaces where we hadn't broken ground before because it tells you what's possible. Even as an adult.
My husband really motivated me to pursue this crazy dream of launching our own wine business. I had never seen anybody [who] looked like me in the alcohol industry and or in the wine industry [who] create[d] a name for themselves.
So I'm over here, just making wine at home and sharing with our friends and family members, and my husband was finally like, "Why, don't you commercialize this business and make it something bigger?" It was only until someone else opened up my eyes to the possibilities [that] I really began to understand what was possible. It's really important in our community. We see people breaking ground and disrupting these industries, creating names for themselves because it allows people to see what's possible.
When did you first get into Target?

We actually launched our business in August of 2021, and literally within the first four months of selling directly to consumers, we were able to bust open the walls of Target and began selling in Dallas-Fort Worth Targets. Now, we are expanding across the state in Target stores.
Not only that, we're in every Total Wine [& More] store in Texas. We're now in Costco, and Costco is the world's largest retailer of wine so that was a really big step for us.
We're also about to announce that we're going to be in Kroger stores across the state as well, Spec's and Goody Goody. God has been good to us. We have seen retail doors open that we never thought was possible, even with our business really being pretty nascent. We're one and a half years old, but we've been able to establish a distribution footprint in retail.
What is it like working with your husband?
I actually love working with Chaz, my husband, because I think once you really find someone who complements you, not only in the personal, relationship way but from a business perspective, the sky is the limit. One plus one equals three when you've got two really compatible personalities working together toward one goal.